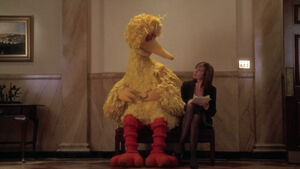 With few exceptions, The Muppets have always been presented as real living characters within the universe of their productions. The Muppet characters have also made many appearances as "real" characters on real-world, non-fiction programs, often appearing as celebrity guests or acts on talk shows, variety shows, game shows, cooking shows or documentaries. But rarely have Muppet characters appeared in programs of fiction, such as sitcoms, dramas or films. In many cases when they are referenced in outside fiction, they are presented just as they are in real life -- as a group of fictional puppet characters performed by puppeteers. (One exception is Greg the Bunny, where they are frequently referenced as real living characters.) However, there are some instances in which the Muppets have been featured as independent living characters in outside fiction.
Muppets presented in fiction as real living characters
Between the Lions — Bert, Ernie, Big Bird and Elmo made guest appearances during the second season.
30 Rock — Kermit the Frog appears as a part of Jack's eulogy to his mother; Miss Piggy appears in a magazine picture from an apparent event she attended.
Muppets presented in fiction as characters of a famous puppet act
Muppets presented in fiction as famous characters in personal fantasies
Good Luck Charlie — Kermit, Miss Piggy, Fozzie, Animal, and chickens appear in Teddy's dream.