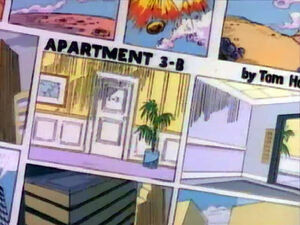 Apartment 3-G is an American comic strip following the lives of three women who share their New York City apartment, 3-G. Nicholas Dallis and Alex Kotzky began the strip in 1961, influenced by the success of other soap opera comics such as Mary Worth.
In the Muppet Babies episode "Comic Capers", Baby Piggy is seen reading the comic strip "Apartment 3-B", a spoof of the strip Apartment 3-G.
Ad blocker interference detected!
Wikia is a free-to-use site that makes money from advertising. We have a modified experience for viewers using ad blockers

Wikia is not accessible if you've made further modifications. Remove the custom ad blocker rule(s) and the page will load as expected.