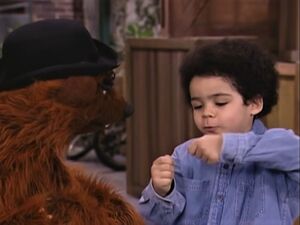 Antonio Ortiz (b. 1999 in New York City) is a kid who appeared in some talk spots with Papa Bear for the Healthy Habits for Life (List of segments).
He was in the 2005 TV movie Knights of the South Bronx (with Ted Danson), and movie Just Like the Son (with Rosie Perez), Illegal Tender, and Three Backyards (with Edie Falco). He has appeared in Blue's Room, as Antonio "their favorite neighbor", in episodes like Blue's Snacktime Playdate, Alphabet Power, and Holiday Wishes. He appeared as himself in the 2007 documentary In Search of Puppy Love, with Paula Abdul, Jeff Goldblum, Kathy Griffin, Steve Schirripa, Robert Smigel, and Fred Willard.
External links
Ad blocker interference detected!
Wikia is a free-to-use site that makes money from advertising. We have a modified experience for viewers using ad blockers

Wikia is not accessible if you've made further modifications. Remove the custom ad blocker rule(s) and the page will load as expected.