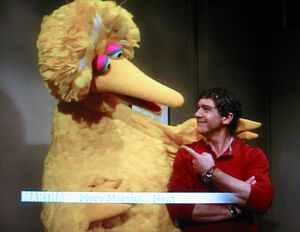 Antonio Banderas (b. 1960) is an actor perhaps best known as the voice of Puss in Boots in the Shrek films. He appeared with Big Bird on the set of Martha in 2010.
On Broadway he has appeared in Nine (with Jane Krakowski), as well as the feature films Evita (with Madonna), Philadelphia (with Tom Hanks) and The Mask of Zorro. He is married to Melanie Griffith.
External links
Ad blocker interference detected!
Wikia is a free-to-use site that makes money from advertising. We have a modified experience for viewers using ad blockers

Wikia is not accessible if you've made further modifications. Remove the custom ad blocker rule(s) and the page will load as expected.