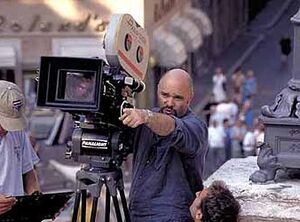 Anthony Minghella (1954 - 2008) was credited for the final scripts on each episode of Jim Henson's The StoryTeller. He also wrote Living with Dinosaurs and the as yet-unproduced screenplay The Seven Deadly Sins, and created The StoryTeller: Greek Myths.
When Minghella directed The English Patient in 1996, he turned to Jim Henson's Creature Shop for special makeup effects. His direction would win him an Oscar for the film, and the make-up was nominated at the British Academy of Film and Television Arts Awards.
External links
Ad blocker interference detected!
Wikia is a free-to-use site that makes money from advertising. We have a modified experience for viewers using ad blockers

Wikia is not accessible if you've made further modifications. Remove the custom ad blocker rule(s) and the page will load as expected.