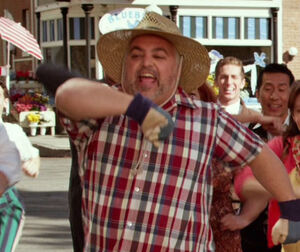 Anthony Marciona is an actor and dancer who appeared uncredited in The Muppets as one of Gary's neighbors in Smalltown, USA. He participates cheerfully in "Life's a Happy Song."
Marciona made his screen debut as a child in the Kirk Douglas movie The Brotherhood (1968). Other film credits, some as a character actor and some as a dancer, include Playing for Keeps, Clerks II, and (500) Days of Summer. TV credits include Glee (multiple episodes, including a mall dancer in "Dream On"), the 1990 revival of Dragnet, Murder, She Wrote, Alias, Scrubs, and additional voices on the 1990s Spider-Man series, as well as national commercial spots.
External links
Ad blocker interference detected!
Wikia is a free-to-use site that makes money from advertising. We have a modified experience for viewers using ad blockers

Wikia is not accessible if you've made further modifications. Remove the custom ad blocker rule(s) and the page will load as expected.