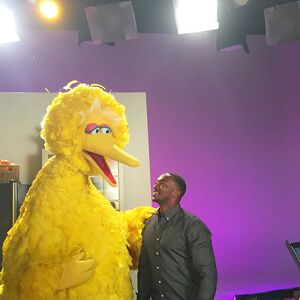 Anthony Mackie (b. 1978) is an American actor known for his roles in such films as 8 Mile, Brother to Brother, Spike Lee's She Hate Me, Million Dollar Baby, We Are Marshall, The Hurt Locker, and Abraham Lincoln: Vampire Hunter. Most recently, he's playing Falcon in the Marvel Cinematic Universe (including appearances in the films Captain America: The Winter Soldier, Avengers: Age of Ultron, Ant-Man and Captain America: Civil War). In 2010, he starred with Christopher Walken in A Behanding in Spokane on Broadway.
In March 2016, Mackie filmed material for Sesame Street's 47th season, including a segment in a kitchen with Cookie Monster and a giant carrot, and participating in a performance of "Rubber Duckie" with Ernie.

Ad blocker interference detected!
Wikia is a free-to-use site that makes money from advertising. We have a modified experience for viewers using ad blockers

Wikia is not accessible if you've made further modifications. Remove the custom ad blocker rule(s) and the page will load as expected.