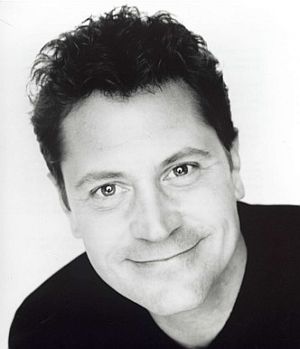 Anthony Asbury has been puppeteering in film and television for about 20 years, and has worked on several Jim Henson productions. He was one of the many puppeteers to contribute to Labyrinth, and created numerous characters during both seasons of The Wubbulous World of Dr. Seuss on Nick Jr.
Asbury has also guested on British programs like Absolutely Fabulous, and puppeteered for Spitting Image alongside Louise Gold and others. He also performed Rondo on Allegra's Window and Lionel Lion on Between the Lions.
He has had a theatrical career as well, playing three seasons in The Haggadah at New York's Shakespeare Festival after being discovered by Julie Taymor, and going on to perform Audrey II in the original off-Broadway production of Little Shop of Horrors. He followed the play to London and Sydney, and performed in the Frank Oz-directed film version. He has assisted Marty Robinson and others in the Broadway revival of the musical (also performing in the ensemble), and continued on with the touring company.
Muppet/Henson Credits
Labyrinth: Firey 5, One of the Four Guards, Right Door Knocker (all puppetry only)
The Flintstones: lead puppeteer on the Dictabird, Dino, and others
The Wubbulous World of Dr. Seuss: Bald Eagle With Toupee, Bullfrog, Dad Tidbiddle, Footman, Gink, The Grinch, Little Guy In Machine, Morris Nooly, Morton's Purple Friend, Mrs. Zabarelli, Onlooker #3, The Royal Herald, Singing Classmate in Play, Terrence McBird, Thidwick the Moose, Uncle Bocks, Uncle Schmeeze, Voice From The Globe, Yertle the Turtle
Non-Henson Credits
Between the Lions: Lionel Lion
Allegra's Window
Spitting Image (pilot: 1983) (1984-1992): Pope John Paul II, John McEnroe, and Edwin Meese III (in early episodes)
Margaret Thatcher (puppetry only; from Series 2 onwards)
External links
Ad blocker interference detected!
Wikia is a free-to-use site that makes money from advertising. We have a modified experience for viewers using ad blockers

Wikia is not accessible if you've made further modifications. Remove the custom ad blocker rule(s) and the page will load as expected.