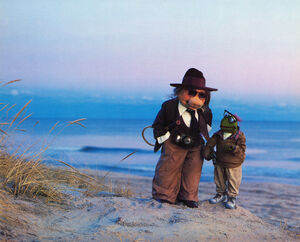 Annie Hall is a 1977 romantic comedy starring, directed and co-written by Woody Allen. Set in New York City and Los Angeles, the film follows the relationship of Alvy (Allen), and his girlfriend Annie (Diane Keaton). The film won four Academy Awards, and the American Film Institute has ranked the film on multiple top 100 lists.
References
Alvy Mellish is named after the character Woody Allen played in Annie Hall.
Connections
External links
Ad blocker interference detected!
Wikia is a free-to-use site that makes money from advertising. We have a modified experience for viewers using ad blockers

Wikia is not accessible if you've made further modifications. Remove the custom ad blocker rule(s) and the page will load as expected.