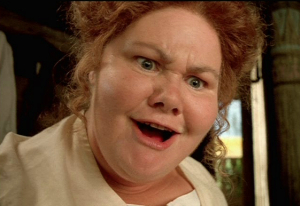 Annette Badland (b. 1950) is a British actress who appeared in the 1996 Jim Henson Productions version of Gulliver's Travels as Farmer Grultrud's wife, a Brobdignagian giantess who is somewhat annoyed by the presence of Gulliver. Badland's film credits include Jabberwocky (as Griselda Fishfinger), Little Voice, Charlie and the Chocolate Factory, and the animated feature Valiant (as a mother pigeon, co-starring with the voices of John Cleese, John Hurt, and Tim Curry).
In television, Badland appeared in the 2005 version of Doctor Who as Margaret Blaine, a politician who is in fact a flatulent alien Slitheen, and whose arc is followed across three episodes. Other television credits include guest parts on the Agatha Christie series Poirot and Miss Marple, Judge John Deed, Coronation Street (as Thelma Clegg), and The Worst Witch (recurring as the tastefully named Mrs. Tapioca). In 2005, she joined the cast of the long-running radio soap opera The Archers as Hazel Wooley, the errant, conniving daughter of increasingly demented old millionaire Jack Wooley.
External links
Ad blocker interference detected!
Wikia is a free-to-use site that makes money from advertising. We have a modified experience for viewers using ad blockers

Wikia is not accessible if you've made further modifications. Remove the custom ad blocker rule(s) and the page will load as expected.