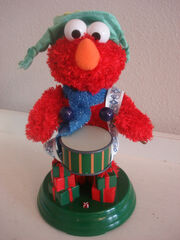 In 2006, Gemmy Industries created this animated Christmas Elmo figurine. Measuring almost 10 inches tall, Elmo talks, sings, and plays his drum.
He says 6 phrases:
Merry Christmas, Ho Ho Ho!
Elmo loves Christmas
Elmo wonders what Santa will bring!
Elmo wishes you a happy holiday!
Elmo wants to sing a holiday song, just for you!
Happy Holidays from Elmo!
and sings 3 songs: