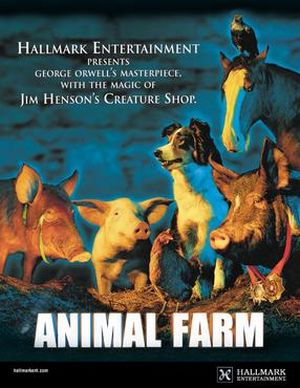 Animal Farm was a made-for-television movie produced by Hallmark and using Jim Henson's Creature Shop effects. This adaptation of George Orwell's political satire on Communism featured a more hopeful ending, and debuted on TNT.
Cast
Voices
Additional Voices: Amanda Symonds, Paul Mark Elliott, Nicole Tibbels, Tim Whitnall, Brian Gulland, Hannah King, Tim Merton-Laight, Charlotte Merton-Laight
Crew
Producers: Robert Halmi Sr., Paul Lowin, Morgan O'Sullivan, and Greg Smith
Principal Puppeteers: Phil Eason and John Wheatley with Frank Smith and Noel Lambert
Creative Project Supervisor/Model Maker: Verner Gresty
Sculpt Supervisor: Graham High
Fabrication Supervisor: Nicola Tedman
Animatronics Model Designers: Chris Clarke, Chris Coxon, Simon Hewitt
Mechanical Department Supervisor: Geoff Paige
Ad blocker interference detected!
Wikia is a free-to-use site that makes money from advertising. We have a modified experience for viewers using ad blockers

Wikia is not accessible if you've made further modifications. Remove the custom ad blocker rule(s) and the page will load as expected.