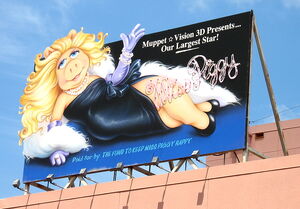 Angelyne is an American model and actress who is best known as an icon of Hollywood via her billboards purchased by herself as an advertisement for her career. She ran for Governor of California in 2003 (losing out to Arnold Schwarzenegger), and her few film credits include Earth Girls Are Easy (with Jim Carrey, Jeff Goldblum, Geena Davis, and Michael McKean), Dangerous Love (with Elliott Gould), and The Malibu Beach Vampires (where she played a Barbara Bush impersonator).
Her famous billboards were spoofed at Walt Disney World with Miss Piggy taking the place of the scantily clad Angelyne.
External links
Ad blocker interference detected!
Wikia is a free-to-use site that makes money from advertising. We have a modified experience for viewers using ad blockers

Wikia is not accessible if you've made further modifications. Remove the custom ad blocker rule(s) and the page will load as expected.