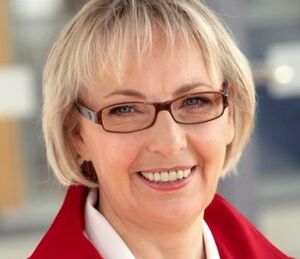 Angelika Paetow (1954-2015) was a German text editor, author, and television producer who had a long association with Sesamstrasse. She joined NRD in 1975 as an intern, including work on Sesamstrasse, and by 2000 she had risen to become the head editor/translator of scripts for the series. She adapted the "Mysterious Theater" and "Miami Mice" skits, among many others. Beginning in 1996, she also authored Sesamstrasse books and audio book releases. During her time with NRD, she also wrote articles, press releases, and web content, including an article on the 40th anniversary of Sesamstrasse.
Paetow had studied languages at the university in Hamburg and began working in print at publishing house Carl Hanser Verlag, translating books into German. Her association with children's television included serving as a writer (and later producer) of the German puppet series Hallo Spencer. She spent years as head of children's programming for NRD channels and was an executive producer of the 2005 Australian TV series Blue Water High (which had German co-production involvement and aired on KiKa. She later moved to the drama division and produced the soap opera Rote Rosen up until her death.
Author credits
Books
Audiobooks
External links
Ad blocker interference detected!
Wikia is a free-to-use site that makes money from advertising. We have a modified experience for viewers using ad blockers

Wikia is not accessible if you've made further modifications. Remove the custom ad blocker rule(s) and the page will load as expected.