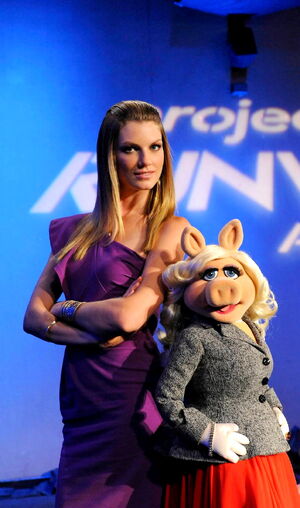 Angela Lindvall (b. 1978) is an American model and actress who hosted the 2012 season of Project Runway All-Stars, on which Miss Piggy is guest judged the January 19, 2012 episode, "Patterning for Piggy."
When asked of her favorite celebrity judge on the show, Lindvall answered Miss Piggy, talking about her experience with her during filming, "We were trying to decide who should be eliminated, so there were our two least favorite looks, and I was like, "Miss Piggy if you had to wear one of these, which one would you wear?" so I'd know which one to eliminate. She was like, "You mean if you put a gun to my head?'"[1]
As a model, Lindvall has appeared on the cover of Harper's Bazaar, ELLE, and Vogue, has appeared in fashion shows for Victoria's Secret, Calvin Klein, Tommy Hilfiger, Prada, GAP, and H&M, and has appeared in the Sports Illustrated swimsuit issue.
As an actress she has appeared with Robert Downey, Jr. in Kiss Kiss Bang Bang, Jason Schwartzman in CQ and the television series Hawaii Five-O.
Sources
External links