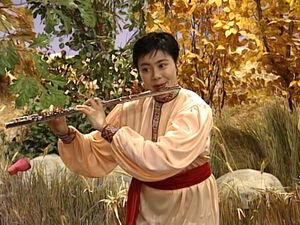 Angel Desai is an actress and musician. She appears in the Sesame Street direct-to-video special, Elmo's Musical Adventure: Peter and the Wolf, as the featured flautist of the Boston Pops. She plays the same role in Baby Bear's visualization of the story, musically representing Zoe (as the bird).
Desai's other credits include multiple episodes on various editions of Law & Order (usually as a medical examiner or CSU technician) and appearances on Dollhouse, The Good Wife, The Event, Nurse Jackie and Elementary. On Broadway, she played Marta in the 2006 revival of Stephen Sondheim's Company.
External links
Ad blocker interference detected!
Wikia is a free-to-use site that makes money from advertising. We have a modified experience for viewers using ad blockers

Wikia is not accessible if you've made further modifications. Remove the custom ad blocker rule(s) and the page will load as expected.