Ad blocker interference detected!
Wikia is a free-to-use site that makes money from advertising. We have a modified experience for viewers using ad blockers

Wikia is not accessible if you've made further modifications. Remove the custom ad blocker rule(s) and the page will load as expected.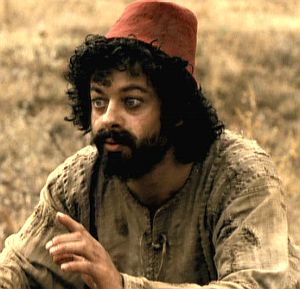 Andy Serkis (b. 1964) is a British actor who played Kasim, Ali Baba's ill-fated brother, in the 2000 TV movie Arabian Nights (with effects by Jim Henson's Creature Shop). Serkis is best known for providing the voice and motion capture reference for Gollum in The Lord of the Rings films, and recently did the same as the title character in the 2005 re-make of King Kong (where he also appeared on-camera as Lumpy the Cook).
Serkis' other film credits include Topsy-Turvy, The Escapist, The Prestige, and the animated feature Flushed Away. On television, he's appeared in the 1999 version of Oliver Twist (as Bill Sikes), Touching Evil, and The Bill, and supplied a guest voice on The Simpsons (as Cleanie in "Dude, Where's My Ranch?")
External links