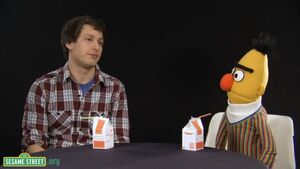 Andy Samberg (b. 1978) is an American actor, comedian and writer best known as a member of the comedy group The Lonely Island and as a cast member on Saturday Night Live (where he has appeared as the Swedish Chef on multiple occasions).
Samberg appeared alongside Bert in a two-part web-exclusive interview entitled "Conversations with Bert." The videos were posted on the Sesame Street YouTube channel in May 2011. He also appeared in a 2011 episode of Sesame Street, and alongside Elmo on a Late Night with Jimmy Fallon interview.
External links
Ad blocker interference detected!
Wikia is a free-to-use site that makes money from advertising. We have a modified experience for viewers using ad blockers

Wikia is not accessible if you've made further modifications. Remove the custom ad blocker rule(s) and the page will load as expected.