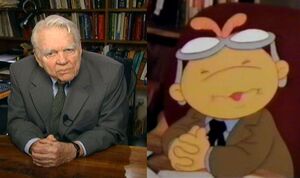 Andy Rooney (1919-2011) was an Emmy Award-winning television journalist, commentator, and author, best remembered for his long stint on 60 Minutes, from 1978 until 2011. His closing segment (initially called "Three Minutes or So with Andy Rooney") offered musings and often complaints about everyday annoyances or aspects of life.
Earlier in his career, Rooney had distinguished himself as a war correspondent during World War II before joining CBS as a writer in the 1940s (often scripting news specials or documentary programs such as FDR: The Man Who Changed America).
References
Ad blocker interference detected!
Wikia is a free-to-use site that makes money from advertising. We have a modified experience for viewers using ad blockers

Wikia is not accessible if you've made further modifications. Remove the custom ad blocker rule(s) and the page will load as expected.