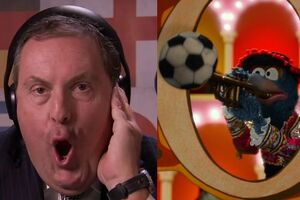 Andrés Cantor (b. 1962) is an Argentinian-born sportscaster, best known for his enthusiastic shouts of "Gooooooool!" during soccer games. He has worked for both Univision and Telemundo, and he has been featured in commercials, on The Simpsons, and in the film Speed Racer.
For the 2014 film Muppets Most Wanted, Cantor delivered his signature "Gooooooool!" cry when Gonzo blows a soccer ball out of his trumpet in Madrid, Spain.
Ad blocker interference detected!
Wikia is a free-to-use site that makes money from advertising. We have a modified experience for viewers using ad blockers

Wikia is not accessible if you've made further modifications. Remove the custom ad blocker rule(s) and the page will load as expected.