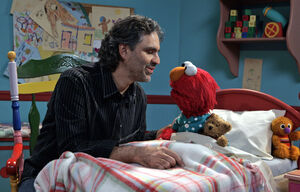 Andrea Bocelli (b. 1958) is an Italian operatic tenor, also popular as a classical crossover singer.
He appeared on Sesame Street to sing "Time to Say Goodnight" to Elmo, a variation of the duet he and Sarah Brightman made famous, "Con te partirò."
The Muppets appear on his 2009 CD My Christmas singing "Jingle Bells," and again on the Great Performances special Andrea Bocelli & David Foster: My Christmas performing the same number.
External links
Ad blocker interference detected!
Wikia is a free-to-use site that makes money from advertising. We have a modified experience for viewers using ad blockers

Wikia is not accessible if you've made further modifications. Remove the custom ad blocker rule(s) and the page will load as expected.