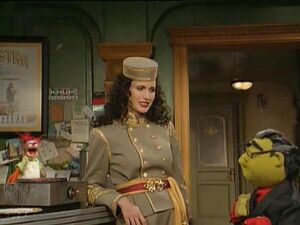 Andie MacDowell (b. 1958) is an actress who made her film debut in Greystoke (1984) and subsequently starred in Sex, Lies, and Videotape, Green Card, Hudson Hawk, and Four Weddings and a Funeral, among other movies.
She guest starred on Muppets Tonight episode 211 in 1996, in which she temporarily found romance and excitement with Dr. Bunsen Honeydew.
In 1999, MacDowell played Shelley Snipes in Muppets from Space. To promote the film, she appeared on Late Night with Conan O'Brien and talked about her cat fight scene with Miss Piggy. A clip of said fight was shown.
MacDowell was spoofed by Miss Piggy for the "Our Wedding or Your Funeral" portion of the Muppet Movie Parodies 1999 Calendar.
External links
Ad blocker interference detected!
Wikia is a free-to-use site that makes money from advertising. We have a modified experience for viewers using ad blockers

Wikia is not accessible if you've made further modifications. Remove the custom ad blocker rule(s) and the page will load as expected.