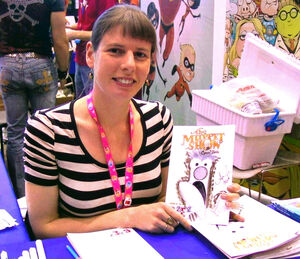 Amy Mebberson is the illustrator of BOOM! Studios' Muppet Peter Pan comic book and The Muppet Show Comic Book: Family Reunion. In addition to her work on this title, she has illustrated several alternate covers for The Muppet Show Comic Book, Muppet Robin Hood, and Muppet King Arthur. Mebberson has illustrated Muppet storybooks following the release of The Muppets.
Mebberson was also a guest artist for the comic Legends of the Dark Crystal: The Garthim Wars, and created the Facebook stickers introduced to promote Muppets Most Wanted in March 2014.
Interior artist
Cover artist
Other work
Convention art
External links
Ad blocker interference detected!
Wikia is a free-to-use site that makes money from advertising. We have a modified experience for viewers using ad blockers

Wikia is not accessible if you've made further modifications. Remove the custom ad blocker rule(s) and the page will load as expected.