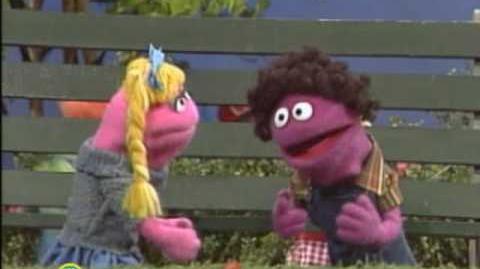 "Amigo" is a Sesame Street song about friendship and multiculturalism that first aired in 1984.
When a new kid moves to Betty Lou's neighborhood, she wants to get to know him, but he doesn't speak any English, so she asks her bilingual friend Carlos to teach her some words in Spanish. Carlos then teaches her "hola" (hello), "buenos dias" (good morning), "buenas tardes" (good afternoon), and most importantly, "amigo" (friend).
The song is performed in a Season 42 episode by the entire cast.
On Plaza Sésamo, the Mexican co-production of Sesame Street, the lyrics were reversed, and the song became "My Friend," with Carlos teaching a Spanish-speaking Betty Lou some English words.
Releases
Audio
Video
Fiesta! (the second verse was cut) (1997)
See also
Ad blocker interference detected!
Wikia is a free-to-use site that makes money from advertising. We have a modified experience for viewers using ad blockers

Wikia is not accessible if you've made further modifications. Remove the custom ad blocker rule(s) and the page will load as expected.