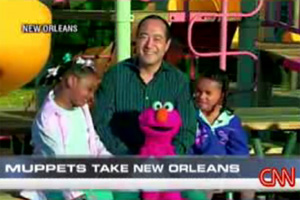 American Morning has been CNN's morning news program since 2002.
On November 30, 2005, co-hosts Soledad O'Brien and Miles O'Brien (no relation) interviewed Alan Muraoka and Elmo from New Orleans, Louisiana. The Sesame Street actor and character were invited by the Corporation for Public Broadcasting to participate in relief efforts in the wake of Hurricane Katrina, along with cast members from another PBS show, Between the Lions.
Ad blocker interference detected!
Wikia is a free-to-use site that makes money from advertising. We have a modified experience for viewers using ad blockers

Wikia is not accessible if you've made further modifications. Remove the custom ad blocker rule(s) and the page will load as expected.