American Idol is a popular reality TV singing competition airing on FOX. Judged by Randy Jackson, Keith Urban, Mariah Carey, Nicki Minaj and hosted by Ryan Seacrest, each year it narrows down a series of finalists until one of them is chosen as the American Idol. Notable winners and finalists that have worked with the Muppets have included Carrie Underwood, Ruben Studdard, Matt Rogers, and Jennifer Hudson. It is part of the Idol franchise which spans across the world. Past judges are Kara DioGuardi, Paula Abdul, Ellen DeGeneres, Steven Tyler, Jennifer Lopez and Simon Cowell. Nigel Lythgoe serves as executive producer since the show's inception (except for 2009 and 2010).
Muppet Appearances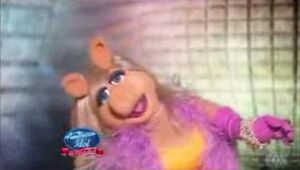 During the "Results Show" broadcasts aired each week, the remaining contestants are featured singing in a commercial for a Ford automobile. Kermit the Frog has appeared inside the featured car at the end of a few of these spots.
Muppet Mentions
On the January 30, 2007 episode of the program's sixth season (Birmingham, Alabama auditions), a contestant named Margaret Fowler appeared, dressed in bright yellow feathers. She claimed to be 26-years-old (the maximum age for eligibility to compete is 28), but was later revealed to be 50. Host Ryan Seacrest remarked, through voice-over, that she looked like Big Bird, and a few bars of the "Sesame Street Theme" were played.[1]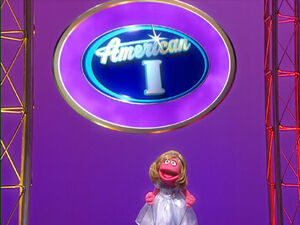 References
Sources
↑ "PEOPLE EXCLUSIVE: Margaret Fowler's Poem for Simon!", People Magazine, January 31, 2007.
External links
Ad blocker interference detected!
Wikia is a free-to-use site that makes money from advertising. We have a modified experience for viewers using ad blockers

Wikia is not accessible if you've made further modifications. Remove the custom ad blocker rule(s) and the page will load as expected.