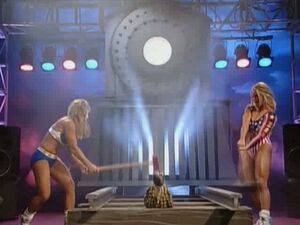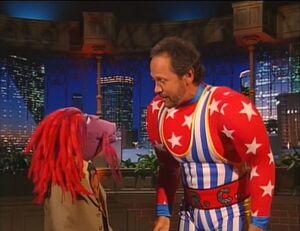 American Gladiators was a syndicated television program which pitted amateur athletes in a competition against the show's "Gladiators", who were professional athletes.
Taped at Universal Studios until 1991, the show continued to run until 1996. The show was revived in 2008 on NBC, lasting two seasons and hosted by Hulk Hogan, and reruns of the original series currently air on USA and ESPN Classic.
Ice and Zap, members of American Gladiators, appeared on episode 210 of Muppets Tonight, where they hammered Gonzo feet first into a railway tie.
References
The pilot episode of Muppets Tonight featured a spoof on their fake KMUP evening broadcast line-up titled "American Radiators."
Connections
External links
Ad blocker interference detected!
Wikia is a free-to-use site that makes money from advertising. We have a modified experience for viewers using ad blockers

Wikia is not accessible if you've made further modifications. Remove the custom ad blocker rule(s) and the page will load as expected.