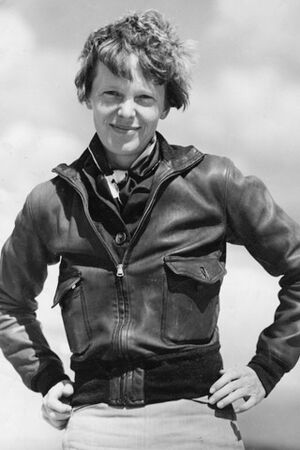 Amelia Earhart (1897-1937) was a noted American aviation pioneer and author. In 1932, she became the first woman to pilot a plane solo non-stop across the Atlantic Ocean. Attempting a circumnavigational flight of the globe in 1937, Earhart disappeared over the central Pacific Ocean and was never found.
A celebrity during her lifetime for pushing the boundaries for female pilots, Earhart has since become a modern legend, immortalized in books, documentaries and movies, and portrayed on screen by the likes of Hilary Swank, Diane Keaton and Amy Adams (in Night at the Museum: Battle of the Smithsonian).
References
Ad blocker interference detected!
Wikia is a free-to-use site that makes money from advertising. We have a modified experience for viewers using ad blockers

Wikia is not accessible if you've made further modifications. Remove the custom ad blocker rule(s) and the page will load as expected.