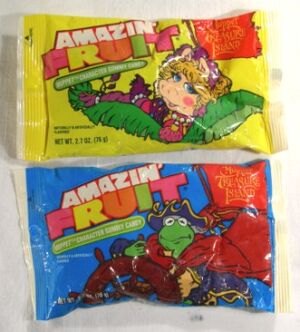 To tie in with the theatrical release of Muppet Treasure Island, Hershey's released special MTI packages of Amazin' Fruit gummy candy.
The packages featured Miss Piggy as Benjamina Gunn and Kermit the Frog as Captain Abraham Smollett.
Labels from the packages could be sent to the Hershey company to get a Muppet Treasure Island radio.
External links
Ad blocker interference detected!
Wikia is a free-to-use site that makes money from advertising. We have a modified experience for viewers using ad blockers

Wikia is not accessible if you've made further modifications. Remove the custom ad blocker rule(s) and the page will load as expected.