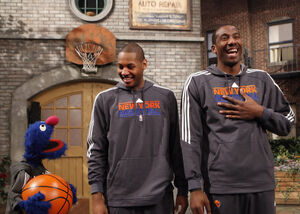 Amar'e Carsares Stoudemire (b. 1982) is an American professional basketball player for the New York Knicks. During his first eight of his career, he played for the Phoenix Suns.
Stoudemire appears on a Season 42 Sesame Street Word of the Day segment, to explain the word "compare" in a segment. (YouTube)
In a Shalom Sesame segment released November 30, 2011 on YouTube, Stoudemire defines the word "tov", Hebrew for "good". (YouTube)
Two segments were filmed of Stoudemire and Carmelo Anthony's visit to Sesame Street, for ESPN.