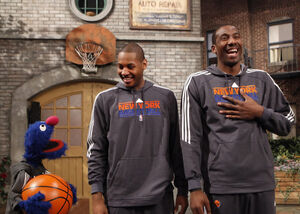 Amar'e Carsares Stoudemire (b. 1982) is an American professional basketball player, having played for such teams as the Phoenix Suns and the New York Knicks.
Stoudemire appears on a Season 42 Sesame Street Word of the Day segment, to explain the word "compare" in a segment. (YouTube)
In a Shalom Sesame segment released November 30, 2011 on YouTube, Stoudemire defines the word "tov", Hebrew for "good". (YouTube)
Two segments were filmed of Stoudemire and Carmelo Anthony's visit to Sesame Street, for ESPN.
Ad blocker interference detected!
Wikia is a free-to-use site that makes money from advertising. We have a modified experience for viewers using ad blockers

Wikia is not accessible if you've made further modifications. Remove the custom ad blocker rule(s) and the page will load as expected.