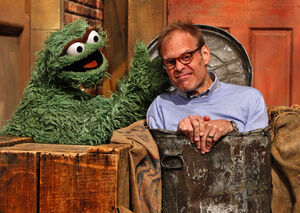 Alton Brown (b. 1962) is best known as the writer, producer, and star of the Food Network programs Good Eats and Iron Chef America.
Brown appeared in episode 4228 of Sesame Street's 41st Season to discuss the word "recipe" with the Muppets and was also featured in the music video for "The Elmo Slide."
Brown also appeared with The Swedish Chef and a turkey on the Food Network's Thanksgiving Live in 2011.

External links
Ad blocker interference detected!
Wikia is a free-to-use site that makes money from advertising. We have a modified experience for viewers using ad blockers

Wikia is not accessible if you've made further modifications. Remove the custom ad blocker rule(s) and the page will load as expected.