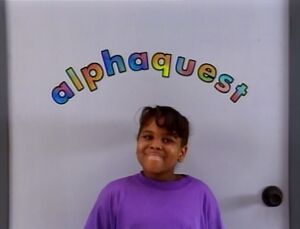 Alphaquest was a series of Sesame Street segments combining live action and animation, in which a girl goes through a hallway and into various rooms, each one representing a different letter of the alphabet. The segments premiered in Season 21.
In episode 3869, Telly Monster and Baby Bear decide to go on their own "Alphaquest".

Segments
Picture
Letter / EKA
Description

B
(EKA: Episode 2866)
Objects beginning with "B" float across the screen.

D
(EKA: Episode 2754)
Dry dust desert, drums, dance, and dinosaur.

F
(EKA: Episode 2776)
A faucet extinguishes a fire, but creates a flood filled with many forms of freaky fish and one frog.

H
(EKA: Episode 2781)
Heading over the hills in a helicopter to a hippo's house.

M
(EKA: Episode 2837)
Making meals with mittens--mixing up monster mush. A horned, orange Anything Muppet monster pops in to eat the mush.

P
(EKA: Episode 2784)
A pack of painted purple penguins practicing a pop song in a pine tree park, and a pink pig with a parachute.

R
(EKA: Episode 2783)
Running down a road past a rabbit, a radio and some rocks.

S
(EKA: Episode 2852)
Seagull, silly surfer, and submarine. Grover makes a cameo in this skit as the silly surfer.

W
(EKA: Episode 3057)
Weird weather, wilted watches, and wind blowing through an open window.