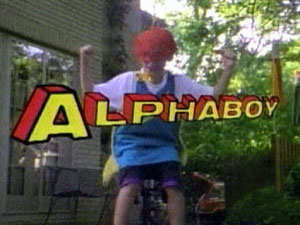 Alphaboy is the name of a live-action segment on Sesame Street written by Adam Rudman which ran during Season 26.
In a 1998 episode, Big Bird pretends he's "Alpha-Bird" and goes on Alphaboy-style adventures.
In a 2001 episode, Alphaboy appears as Big Bird's guest on "The Letter B Show".

Segments
Picture
Letter / EKA
Description

B: Bicycle

---

Episode 3401
Alphaboy balances baloney on a blue bicycle, while riding on a bumpy sidewalk.

F: Feathers

---

Episode 3524
Alphaboy fans his father's foot with funky feathers, causing funny laughter.

L: Leaves

---

Episode 3656
Alphaboy takes a long leap into lots of lovely leaves, becoming lazy.

N: Noodles

---

Episode 3465
Alphaboy eats noisy noodles with his neighbor Nora.