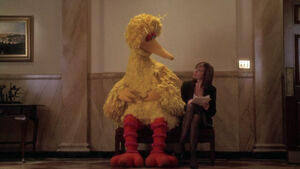 Allison Janney (b. 1960) is an Emmy Award winning actress most famous for her role as C.J. Cregg on The West Wing, in which she appeared alongside Big Bird in the episode "Eppur Si Muove." Several years earlier, she guest starred on Aliens in the Family, as Principal Sherman in the episode "A Very Brody Tweeznax."
Janney also appeared on Sesame Street, alongside her West Wing co-stars Stockard Channing and Lily Tomlin, in the celebrity version of "Dance Myself to Sleep," which debuted in The Street We Live On. The scene was filmed at the same time as the West Wing episode, and on the same set.
On December 9, 2009, Janney appeared with Red Fraggle at the Jim Henson Company's Fraggle Rock Holiday Toy Drive Benefit event at Kitson in West Hollywood.
External links
Ad blocker interference detected!
Wikia is a free-to-use site that makes money from advertising. We have a modified experience for viewers using ad blockers

Wikia is not accessible if you've made further modifications. Remove the custom ad blocker rule(s) and the page will load as expected.