Ad blocker interference detected!
Wikia is a free-to-use site that makes money from advertising. We have a modified experience for viewers using ad blockers

Wikia is not accessible if you've made further modifications. Remove the custom ad blocker rule(s) and the page will load as expected.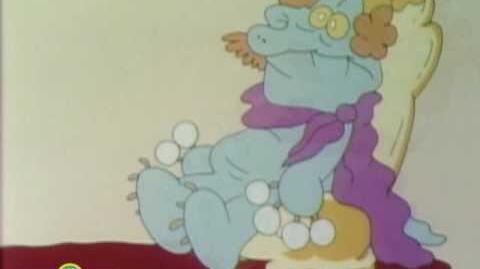 "The Alligator King" is a Sesame Street animated segment about the number 7.
The song tells the story of a mustachioed alligator king who is "feeling mighty down" and offers his crown to whichever of his seven sons can cheer him up.
The first six sons bring him gifts, but they end up doing more harm than good. The seventh son, however, helps the king up after he falls down and is awarded the crown, which is revealed to have been purchased "on sale at a discount store" for seven cents. As a result, not only does "The Alligator King" teach about the number 7, but it also shows that helping others is more important than owning material things.
This segment was animated, produced, and directed by William "Bud" Luckey. The music was performed by San Francisco jazz musician Turk Murphy and his band, with Murphy providing the vocals and Luckey playing the banjo.
In Episode 3408, Celina had her dance class, after viewing the segment twice, perform an "Alligator King" pageant, with Big Bird in the title role.
The song was originally recorded with a slightly different end lyric: "I got it on sale at Monkey Ward's" (a slang term for department store Montgomery Ward). For reasons unknown (possibly legal), the lyric was changed to the generic "discount store"; the version heard on the show is the original recording, with the new take with the revised lyric edited on to the end. (The original unedited recording can be heard on the 2001 Turk Murphy compilation CD Wild Man Blues.)
Releases
Audio
Video