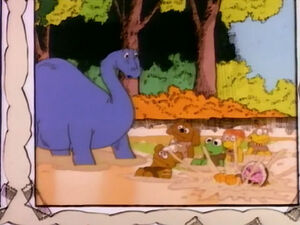 Alley Oop is a syndicated comic strip, created in 1932 by American cartoonist V. T. Hamlin who wrote and drew the popular and influential strip through four decades. The strip followed the adventures of the title character, Alley Oop, a Caveman in the kingdom of Moo. Despite the strip being set in a prehistoric time, the stories were often satires of American suburban life. The strip continues today in over 600 newspapers.
The strip was referenced in the Muppet Babies episode Comic Capers. The Babies are making up a story from cut out panels from the Sunday comics, wandering through Blondie, Crock, Hägar the Horrible and Peanuts (among others).
The character himself is the inspiration of the song "Alley Oop", performed on The Muppet Show in episode 516.