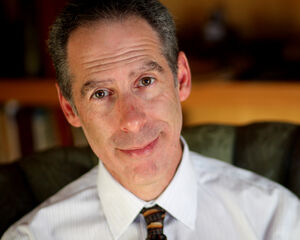 Allan Trautman began his performing career as an actor, noted for his portrayal of "Tarman" in the cult classics Return of the Living Dead: Parts One and Two. He has gone on to puppeteer in such features as Muppets from Space, Cats & Dogs, Babe and Dr. Dolittle (for which he was also performance coordinator). His television puppeteering credits include Greg the Bunny, Unhappily Ever After, Crank Yankers, Muppets Tonight and Dinosaurs.
Credits
It's a Very Merry Muppet Christmas Movie: Joe Snow (Narrator, puppeteer only), Eugene (tuba player)
Dinosaurs: Fran Sinclair (face), Chief Elder (face), Edward R. Hero (face), Elder (face), Fox Jacket (puppetry only), Hank Hibler (face), Henry (face), Inspector (face), Lingo (face), Grandpa Louie (face), Mr. Otto Lynch (voice and face), Mr. Pullman (voice and face), Ted (face), Wesayso Interviewer (face), Wesayso Scientist (face), Winston (face), B.P. Richfield (body, occasionally), Mr. Lizard, Major Savings, Rocco, Officer Brazelton, Eugene, Elliot, Mr. Foreman
Muppet Classic Theater: Father Pig, Banker
Domino's Pizza Commercials: Bad Andy
Sam Plenty: Professor August Weadle
Sid the Science Kid: Director
External links
Ad blocker interference detected!
Wikia is a free-to-use site that makes money from advertising. We have a modified experience for viewers using ad blockers

Wikia is not accessible if you've made further modifications. Remove the custom ad blocker rule(s) and the page will load as expected.