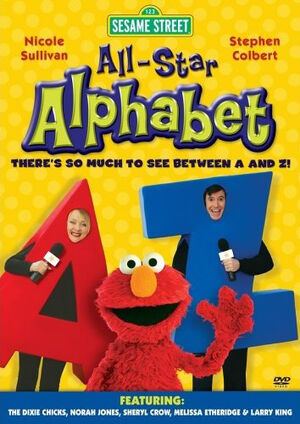 | | |
| --- | --- |
| Release Date | 2005 |
| Produced by | Sony Wonder |
| Catalogue no. | LVD 58857 |
| Format | DVD |
| Discs | 1 |
| Region | 1 |
| ASIN | |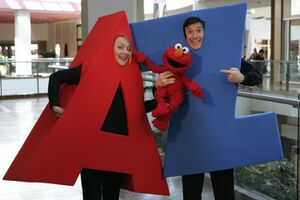 All-Star Alphabet is a 2005 direct-to-video Sesame Street compilation starring Nicole Sullivan and Stephen Colbert as the letters A and Z, respectively.
Segments
Cartoon: A man talks about A words
"C-cowboy/ C-cowgirl", with Elmo and Zoe
Telly Monster talks about D words, with assistance from the letter D
Film: E's attached to poles fly around
Stop Motion: F items on a computer
Film: "G, You're Great"
Cartoon: "Soul H"
"I Soaks Up the Sun" with Sheryl Crow and the Muppets
Cartoon: "Jumping J"
Kids clap and talk about K words
Cartoon: A spokesman talks about the letter L
"M is for Monster" with the Monsters (EKA: Episode 3885)
Kids form N shapes
Film: "Say O!"
Cartoon: Various P words
Cartoon: A jester awaits the arrival of Queen Quaigmire, with interruptions from a duck
Prairie Dawn gives Grover fifteen seconds to say an S word
Kids pose like T words, as the words are said
Film: Various people say V words
Larry King asks callers what their favorite W words are
Film: A kid draws the letter X
"Don't Know Y" with Norah Jones and Elmo
Cookie Monster asks Lexine if she knows any Z words
Miles and the Muppets sing the alphabet
Bonus features
Classic alphabet segments:
Credits
Director: Adam Matalon
Producers: Adam Matalon, Kevin Burke, Dionne Nosek
Writer: Christine Ferraro
Special appearances: Sheryl Crow, Melissa Etheridge, Norah Jones, Larry King
Trivia
Other releases
It was also a special feature on Love to Learn (2016).