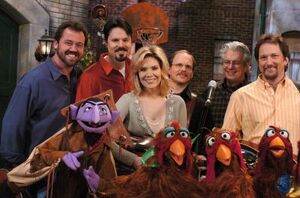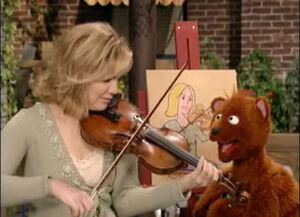 Allison Krauss (b. 1971) is a renowned American bluegrass-country singer and fiddle player.
She has thus far released more than ten albums, appeared on numerous soundtracks, and has been credited by audiophiles with helping to usher in a new interest in bluegrass music in the United States. Her soundtrack performances have led to further popularity, including the Grammy-winning O Brother, Where Art Thou? soundtrack, an album also credited with raising American interest in bluegrass, and the Cold Mountain soundtrack, which led to her performance at the 2004 Academy Awards. During her career she has won 20 Grammy Awards—more than any other female artist and tied for seventh-most among all artists—along with numerous other awards.
Krauss and her band, Union Station, sang "Sesame Jamboree" with the Count on the 2007 direct-to-video Sesame Street release, Kids' Favorite Country Songs. Krauss also appeared in a Healthy Moment with Baby Bear to tell us to do things that make us happy because it keep our minds healthy and we will also feel good too.
External links