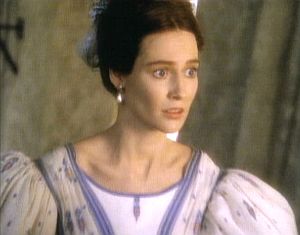 Alison Doody (b. 1966) is an Irish actress who starred as the title character in The StoryTeller episode "Sapsorrow." Doody is best known for playing Bond girl Jenny Flex in A View to a Kill and Nazi Dr. Elsa Schneider in Indiana Jones and the Last Crusade.
Doody's other film credits include Temptation and Major League II. She was originally cast as Éowyn in the Lord of the Rings films, but due to her pregnancy, had to bow out, and was replaced by Miranda Otto.
External Links
Ad blocker interference detected!
Wikia is a free-to-use site that makes money from advertising. We have a modified experience for viewers using ad blockers

Wikia is not accessible if you've made further modifications. Remove the custom ad blocker rule(s) and the page will load as expected.