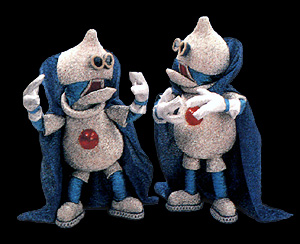 The aliens first appeared on episode 416 of The Muppet Show, in which the pair hatched from a meteor that has crash landed in the backstage of The Muppet Theatre. They were performed in this appearance by Frank Oz and Dave Goelz.
They appeared in episode 101 of The Jim Henson Hour as background characters and later performed by Drew Massey and Victor Yerrid in episode 15 of From the Balcony. One of the puppets was used as Norberta in the home video Things That Fly.
The alien puppets have eyes that blink side-to-side.
At one point, Palisades Toys considered including a figurine likeness of the aliens in an Accessory Pack for the Pigs in Space Playset. Neither the Accessory Pack nor the figures were ever produced.
They appeared in The Muppet Show Comic Book: Pigs in Space.
Mopatop's Shop
The puppets were used in various roles on Mopatop's Shop.
See also
Ad blocker interference detected!
Wikia is a free-to-use site that makes money from advertising. We have a modified experience for viewers using ad blockers

Wikia is not accessible if you've made further modifications. Remove the custom ad blocker rule(s) and the page will load as expected.