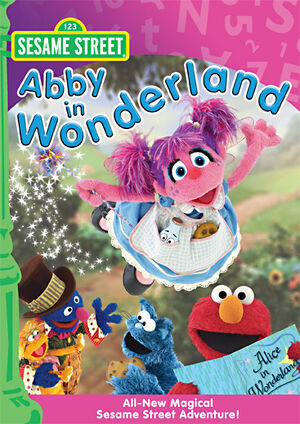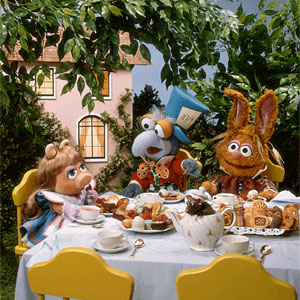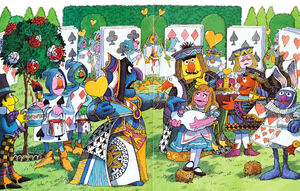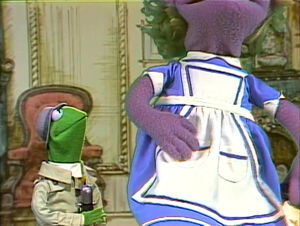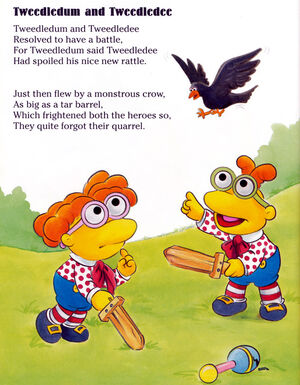 Alice in Wonderland is the composite title often given to Lewis Carroll's two Alice novels, Alice's Adventures in Wonderland and Through the Looking-Glass, and What Alice Found There.
Alice's Adventures in Wonderland, which was written in 1865, tells the story of a girl named Alice who falls down a rabbit hole into the magical world of Wonderland, where she meets a variety of strange and often nonsensical creatures before returning to the real world.
A sequel, Through the Looking-Glass, and What Alice Found There, was published in 1871. In it, Alice crosses through a mirror into a land made up of a giant chessboard where ordinary logic has been reversed. Aside from Alice, her cat Dinah, and cameo appearances by "Hatta" (the Mad Hatter) and "Haigha" (the March Hare), the characters in the sequel are all unique to the book. Through the Looking-Glass also includes Carroll's original poem "Jabberwocky."
In many adaptations, including the 1951 animated Disney film, characters and incidents from the two novels are combined and set in Wonderland. Many such adaptations adopt the title Alice in Wonderland. The stories, which have been adapted and referenced in several Muppet and Creature Shop productions, have often followed this pattern. Dreamchild, whose fantasy sequences are based entirely on Alice's Adventures in Wonderland, is the notable exception.
In the "Gonzo's Story" issue of The Muppet Show Comic Book, Gonzo reprises his role as the Mad Hatter at his Tea Party in the "all-rodent martial arts extravaganza that is" the musical number "Twinkle Twinkle Little Rat." However, instead of being accompanied by Alice and the March Hare, Gonzo is joined by Rizzo and three anonymous rats "all dressed up to do karate" (one of whom plays the Dormouse in the teapot). When they run out of tea, Rizzo suggests coffee instead, but they soon regret that decision after drinking twenty cups worth.
The Creature Shop provided the special effects and Creatures for the film Dreamchild, which is a fictionalized combination of Carroll's life and his novel Alice's Adventures in Wonderland. Characters from the novel include the Mad Hatter, the March Hare, the Dormouse, the Caterpillar, the Mock Turtle, and they Gryphon.
In 1999, the Creature Shop supplied realistic puppet characters for a more straightforward Hallmark Entertainment TV movie, simply titled Alice in Wonderland. This version combined events from both novels, adapting the majority of the first book and incorporating elements from its sequel.
Reporter Kermit interviews Alice in a Sesame Street News Flash segment (EKA: Episode 2313). When Kermit first introduces her, she is so tiny that she can hardly be seen. Upon drinking from a water bottle labeled "Drink Me," however, she becomes as tall as Kermit, then larger and larger until all that can be seen of her are her red and white striped stockings.
Abby in Wonderland is a 2008 direct-to-DVD film adaptation that combines elements from the two Alice novels, and features Sesame Street characters in the main roles, including Abby Cadabby as Alice. In this version, some of the original Wonderland characters were modified to fit the Sesame Street character that portrayed them. These include Elmo as the Red Rabbit (White Rabbit), Cookie Monster as the Cheshire Cookie Cat (Cheshire Cat), Count von Count as the Counterpillar (Caterpillar) and Oscar the Grouch as the Grouch of Hearts (Queen of Hearts). Other characters included Grover as the Mad Hatter, a miniature Zoe as the Dormouse, Bert and Ernie as Tweedledum and Tweedledee, Rosita as a live flower, and two new characters: Cookie and Bottle.
In an insert with Big Bird and Snuffy, the two sing about being best friends. At one point, Big Bird states he's Tweedle-Dee and Snuffy's Tweedle Dum.
References
In Sesame Street Episode 2734, Elmo writes a story called "Elmo in Numberland," a reference to Alice's title.
In episodes 4069 and 4070, Maria has a looking glass waiting at the Mail-It Shop to be mailed to Alice in Wonderland (as soon as she can figure out the zip code).
Connections
See also