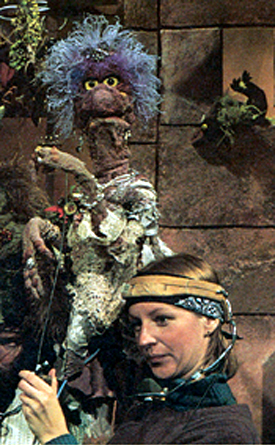 Alice Tweedie is an artist, puppeteer, and actress who performed with the Muppets on Saturday Night Live for over a year, playing the role of Queen Peuta. She was a puppeteer, actress, and singer on Captain Kangaroo in "The Adventures of Slim Goodbody in Nutri-City" for three years.
Although her name was never displayed on-screen on Saturday Night Live, her name was announced live on the air by Don Pardo at the close of every show. The Art of the Muppets and other external sources have frequently spelled her name "Tweedy."
Other credits include a voice role in the 1987 Rankin/Bass special The Wind in the Willows and serving as a puppeteer for the Shari Lewis and Lamb Chop videos. She performed on Perry Como's Christmas in New York and as a puppeteer and singer in Wizzle Falls (a Johnny Carson pilot).
Ad blocker interference detected!
Wikia is a free-to-use site that makes money from advertising. We have a modified experience for viewers using ad blockers

Wikia is not accessible if you've made further modifications. Remove the custom ad blocker rule(s) and the page will load as expected.