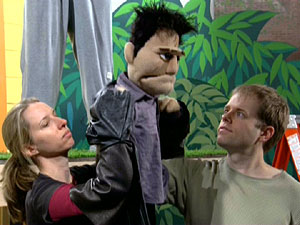 Alice Dinnean (b. May 23) is a puppeteer who has performed in many Muppet productions including Sesame Street and Bear in the Big Blue House. She's sometimes credited as Alice Dinnean-Vernon.
Her interest in puppetry began when she received a pig puppet as a prize for winning a local essay contest in Oakland, California. Years later, after a prestigious internship at the Center for Puppetry Arts in Atlanta, Georgia, she auditioned for The Jim Henson Company. Dinnean-Vernon also studied art and creative writing.
She has also puppeteered for several non-Muppet television shows and films, including Men in Black II, Jack's Big Music Show,, Bunnytown, The Country Bears, Crank Yankers, Team America: World Police, Buffy the Vampire Slayer and Angel.
Credits
It's a Very Merry Muppet Christmas Movie: Additional Muppets
Muppets from Space: Additional Muppets
Muppets Tonight: Additional Muppets
Sesame Street: Phoebe, Little Murray Sparkles, Goldilocks, Sherry Netherland, Mama Bear, The Silly Sorceress, Underlings, Jan Brady, Bicycle, Sissy, Lurlene, Orange Juice, Loretta, Ready Betty, Herry's Mother, Twister Sister, Royal Smart Person, Delly Monster
Sesame Street Home Video
The Muppets: Afghan Hound and Wanda
The Muppets Take the Bowl (assistant for Kermit the Frog in "Happy Feet")
Non-Muppet credits
Bunnytown: Additional Puppets, Writer
Jack's Big Music Show: Mary
The Book of Pooh: Additional puppets
The Puzzle Place: Julie Woo, Sizzle
Crank Yankers
Cousin Skeeter
Scooby-Doo! Adventures: The Mystery Map: Daphne Blake, Dr. Escobar
External links
Ad blocker interference detected!
Wikia is a free-to-use site that makes money from advertising. We have a modified experience for viewers using ad blockers

Wikia is not accessible if you've made further modifications. Remove the custom ad blocker rule(s) and the page will load as expected.