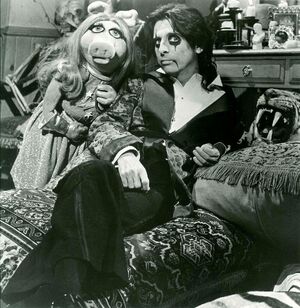 Alice Cooper (b. Vincent Furnier, 1948) is a shock rocker who guest starred in episode 307 of The Muppet Show, where he performed three of his hits: "Welcome to My Nightmare," "You and Me," and "School's Out." His dark, somewhat sinister persona served as the theme for the episode, which cast him as an agent of the Devil. A Muppet caricature was made in Alice Cooper's likeness but was not featured in the episode.
Cooper continues to record and tour regularly.
Cooper was friendly with Jim Henson outside of the taping, chatting to him, Caroll Spinney, and his wife at a restaurant in the late 1970s, unlike Liza Minnelli.[1]
References
Alice Cooper's song "I'm Eighteen" was spoofed in a Sesame Street animated segment in which the singer has eighteen sandwiches to choose from. (EKA: Episode 2859)
Sources
External links