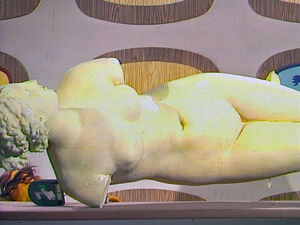 Alexandros of Antioch is an artist known best for his famous sculpture, the Venus de Milo.
References
In episode 417 of The Muppet Show, the Newsman reports that the Swinetrek is about to make soft landing on a distant planet. He becomes confused by the second item in his copy, stating that Venus will then be making a hard landing in the Muppet Newsroom. Sure enough, the sculpture topples onto his desk.
An artist creates the "Venus de Marsmahllow" in a "Smart Cookies" segment on Sesame Street. Due to some indoor rain, the arms eventually melt off.