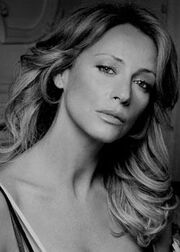 Alexandra Lencastre (b. 1965), or Maria Alexandra de Alencastre Telo Teodósio Pedrosa, is a popular Portuguese actress. Her earliest recurring screen role was on Rua Sésamo. English language audience know her best from The Dancer Upstairs with Javier Bardem, directed by John Malkovich, but her greatest acclaim came for O Delfim, also released in 2002.
Recently she has appeared in 275 episodes of Fascínios, 21 episodes of the mini-series Equador, 348 episodes of Meu Amor (2009-2010), 364 episodes of Anjo Meu (2011-2012), and 85 episodes of Destinos Cruzados (2013).
External links
Ad blocker interference detected!
Wikia is a free-to-use site that makes money from advertising. We have a modified experience for viewers using ad blockers

Wikia is not accessible if you've made further modifications. Remove the custom ad blocker rule(s) and the page will load as expected.