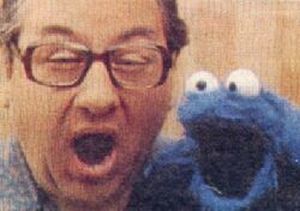 Alexander Welbat (1927-1977) dubbed Cookie Monster (Krümelmonster) into German for Sesamstrasse, from 1973 to 1977.
Welbat was replaced by actor Edgar Ott, and then following Ott's own death in 1994, Welbat's son Douglas Welbat took over the character, and still performs the voice today.
The elder Welbat's other credits include dubbing Peter Ustinov in Topkapi and Mel Brooks in The 12 Chairs.