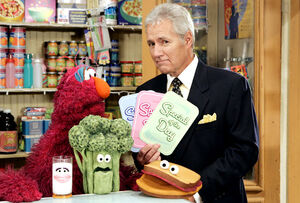 George Alexander "Alex" Trebek (b. 1940) has been the host of the popular trivia game show Jeopardy! since 1984. He appeared with some of the cast of Sesame Street on his show on April 4, 2006.
Big Bird, Elmo, Rosita, Oscar the Grouch and a dozen Muppet Eggs appeared with Trebek to help promote Sesame Street's Season 36 theme, "Healthy Habits for Life." Trebek then appeared on Sesame Street itself in Season 37.
He made a brief appearance on The Tony Danza Show, on the red carpet of the Daytime Emmy Awards, being interviewed by Kermit the Frog and Miss Piggy. (YouTube)
References
In The Muppets episode "Generally Inhospitable", Yolanda Rat says Piggy with a mustache looks like a pink Alex Trebek.
External links
Ad blocker interference detected!
Wikia is a free-to-use site that makes money from advertising. We have a modified experience for viewers using ad blockers

Wikia is not accessible if you've made further modifications. Remove the custom ad blocker rule(s) and the page will load as expected.